Premium Grease Dosing Solutions: Superior Grease Digestion
Goodflo offers high-quality refill grease dosing solutions specifically designed for use with our automatic grease dosing systems. Our premium grease digestion dosing solutions are not only compatible with Goodflo's dosing units but can also be used with other branded dosing systems and units, providing versatility and convenience.
Available in 10-litre or 25-litre measures, each refill package is carefully formulated to effectively break down and digest grease in your commercial kitchen's drainage system. Our advanced solution ensures optimal grease control and combats the risk of blocked drains, allowing your kitchen operations to run smoothly without disruption.
When paired with Goodflo's automatic grease dosing system, our premium grease digestion dosing solution delivers exceptional performance. The mains-operated peristaltic dosing pump, included in our complete automatic enzyme dosing system, offers convenient and hassle-free operation. With easy setup, installation and comprehensive instructions, you can quickly integrate our refill liquids into your grease dosing system.
At Goodflo, we prioritise customer satisfaction and ongoing support. That's why we provide free telephone support to assist you with any questions or concerns you may have regarding the use of our refill liquids or the operation of your grease dosing unit.
Ordering our replacement grease dosing solutions is quick and convenient through our online platform. We offer fast next-day delivery, ensuring that you can maintain optimal grease control and uninterrupted performance in your kitchen.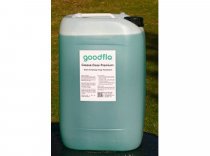 £
174.00
£

145.00

(exc VAT)